You try to log in but it doesn't work and you get the message "Invalid credentials"? Check here what the cause may be and how you can solve it.
How do I prevent the error message "Invalid credentials" from appearing when I log in?
Untick the box "remember me"

Is your password at least 6 characters long?
If not, see here how you can reset your password:
https://knowledge.izix.eu/how-do-i-modify-my-password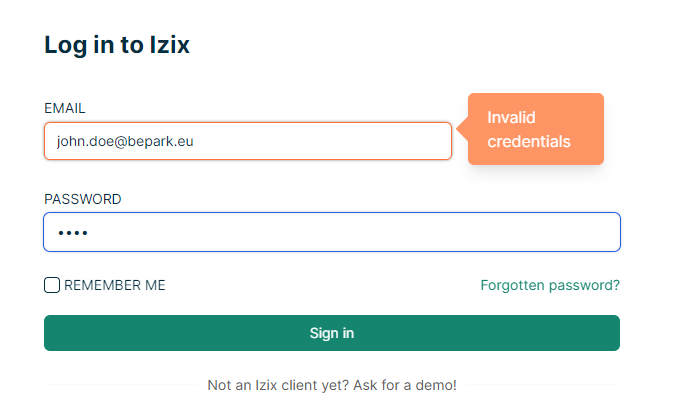 You may have a visitor access on this account
To know if you have a visitor role on this account you can always redirect yourself to on of the administrators in your organisation. A visitor do not has access to an account. If you need an account you should have at least the role "Simple user"
Try on Chrome
If it doesn't work on Edge, Internet Explorer or Firefox please try to log in on Google Chrome.
Empty cookies
If you were already on Chrome and you have the message, please remove your cookies.
On your computer, open Chrome.
At the top right, click More .
Click More tools Clear browsing data.
At the top, choose a time range. To delete everything, select All time.
Next to "Cookies and other site data" and "Cached images and files," check the boxes.
Click Clear data.
It could be that your organisation uses SSO (= Single-Sign-On) to connect. If so you will not be able to login with the traditional login and password on the Izix login page itself.
Please check with your administrator the login procedure of your organisation.