Discover the different access types that an administrator can give to a profile.
This feature's availability depends on your subscription plan and role.
Definition:
An access strategy is a specific type of planning that allows the user to rightfully gain access to the parking lot. Users can only use the strategies that are allowed for them by their organization (e.g. a manager would receive a better access strategy than a simple employee).
Each access strategy has a different impact on the time where the user can access the parking, on the occupancy count of the parking, and on the duration of his access. The goal is to regulate the access to the parking for users with different needs.
The access strategies available in Izix
Within Izix, there are several access strategies that can be set up according to the parking policy defined. They take into account priority, capacity to plan ahead, actions required by the user, etc.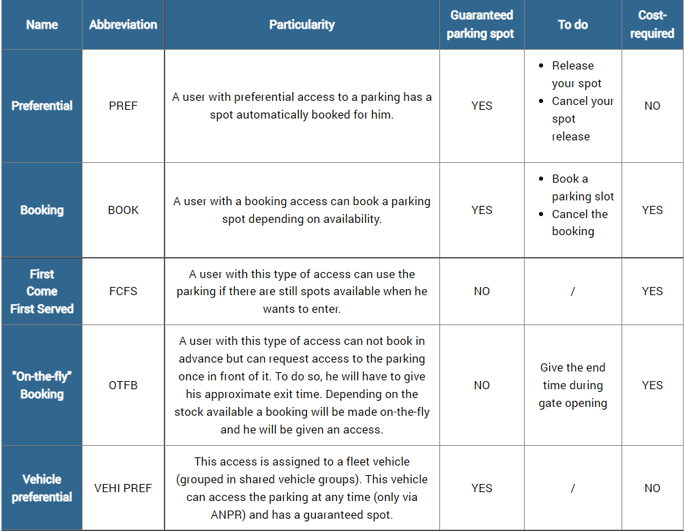 An access policy is linked to a parking lot's group of spots
An access policy, which is basically a usage method of the parking lot, is linked to a group of spot(s). By default, a parking lot is composed of single group of spot. An administrator has the possibility to divide it into sub-groups which will then be linked to an access service.
What are cost-required accesses?
Some of these accesses can be configured as "cost-required accesses" : booking, first come fist served and on-the-fly booking. This means that users with this type of access right will have to spend credits they received to make use of a parking lot. Making use of the parking lot will then lead to a decrease in the number of credits the user received at the beginning of the month. (This number of credits depends on the budget's profiles defined and the decrease is proportional to the access' cost defined by the admin.)