You may need to edit the grace period based on the behaviour of users on the parking lot(s).
This feature's availability depends on your subscription plan and role.
Definition: The grace period is the time before and after a booking during which the user can access the parking lot.
What is the grace period?

The grace period defines the number of minutes of flexibility users have to access or leave the parking lot before and after their booking. This grace period is defined for your entire organization.

For example:
If a user has made a booking from 10:00 to 12:00 and your grace period is 10 minutes: this user will actually be allowed to access the parking from 9:50 to 12:10.
Why using the grace period?
It allows the administrator to determine the period of time the user has before and after their booking to already enter or exit the parking lot, providing users with flexibility.
How to edit it ?
1. In the menu on the left, choose "Settings"

2. Select the sub-category "Grace period"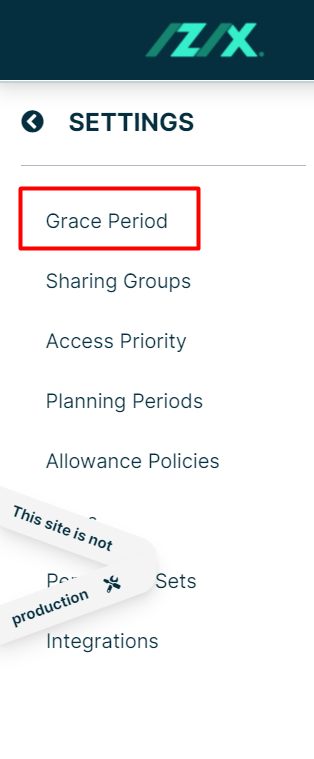 3. Click "Edit"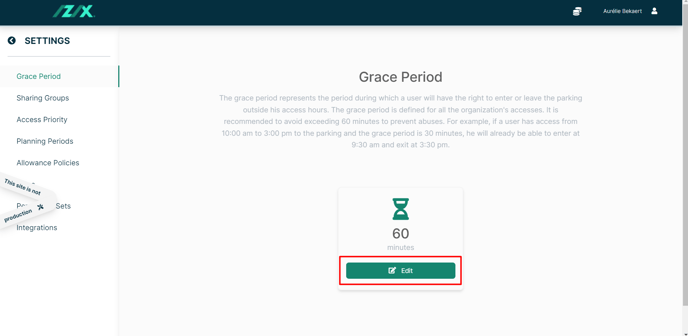 4. Enter the grace period you want to set up (value in minutes)
5. Click on "Confirm"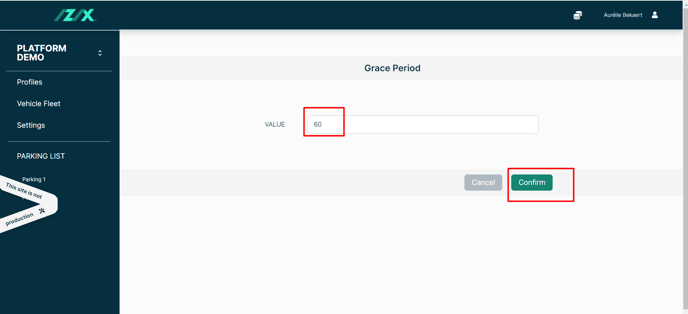 By default, the grace period is set to 60 minutes. It is not recommended to increase it beyond this time, as it will come with a higher risk of parking misuse and over-occupancy.
The grace period always depends on the general parking schedule. If the parking schedule does not start until a certain time, the grace period will not be functional before this one.