Create vehicle sharing groups to segment vehicles' bookings in an optimal way for your users.
This feature's availability depends on your subscription plan and role.
Definition: Vehicle sharing groups are a group of vehicles belonging to an organization that can be used by its users (e.g. Electrical shared vehicles, Company Cargo bikes, etc.).
Why creating vehicle sharing groups?
There are two types of vehicles in Izix :
Personal vehicles that users link to their own profile;
Fleet vehicles belonging to the organization, divided into groups, that can be made bookable by the users of the organization to whom the authorization has been given.
You have the possibility to define different sharing groups for which you have full rights to create, edit and delete both groups and vehicles. These vehicle sharing groups will allow you to segment vehicles' bookings in an intelligent and optimal way for your users.
How do I create vehicle sharing groups ?
1. In the menu on the left, choose "Settings"



2. Select "Sharing Groups"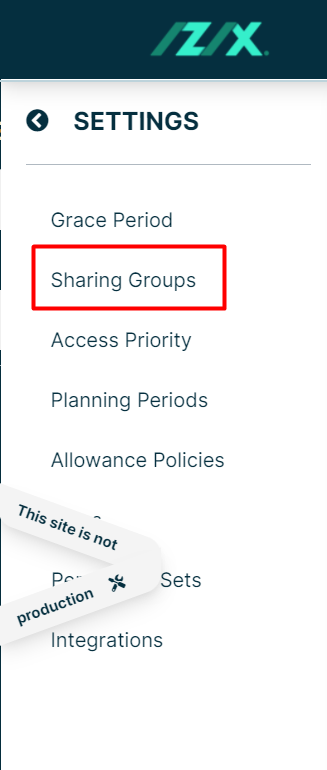 3. Click on "Add new" on the right side of the page.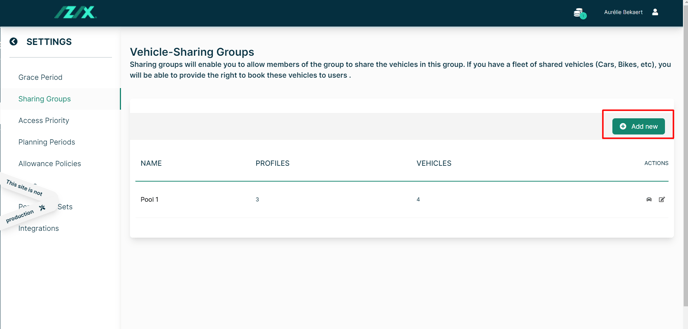 4. After writing the desired name, click on "Confirm"

The name of your vehicle group must be at least 5 characters long.