There are two different ways for you to create a booking for a profile if they cannot access their account.
This feature's availability depends on your subscription plan and role.
Definition: A booking is an access strategy where the user books a parking spot in advance (within the day limit) by using the calendar interface. The user selects a specific schedule within the hours authorized by their access service and the availability of the parking lot. The user will be able to enter the parking lot within the booking period.
When should I create a booking for a user?
Users with a booking access (BOOK) can create or delete their own bookings. To make use of the parking lot, users must therefore book a spot in advance (the planning period is defined in the access description). It is possible that for some reason a user does not have access to their account and therefore cannot create their booking. In this case, you may be asked by the user to create one on their behalf.

As an administrator, you can create but also delete a spot booking for your users.
Please note that when creating a booking for a user as an administrator, no credit will be deducted from their credit balance (in case booking is linked to credit).
How do I book a parking spot for a user?
To create a reservation for a user, make sure that the user has a booking access type.
Through the access list
1. In the menu on the left, select the parking lot where you need to make the booking for the user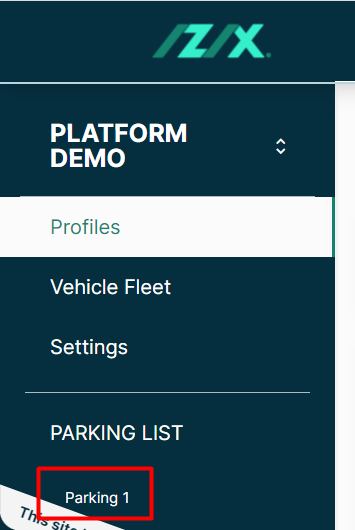 2. In the menu, select "Access List"

3. Click on "New" at the top right of your screen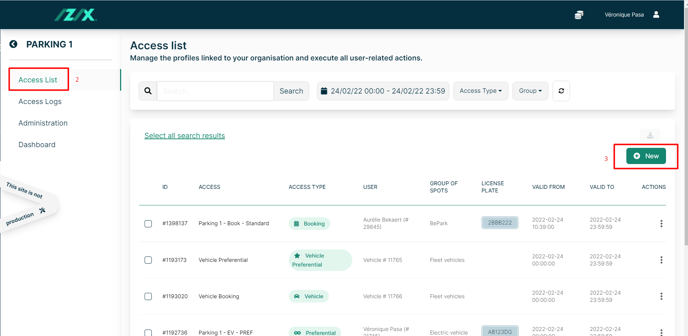 4. Indicate the email address of the user for whom you wish to make a booking

5. Click on "Confirm"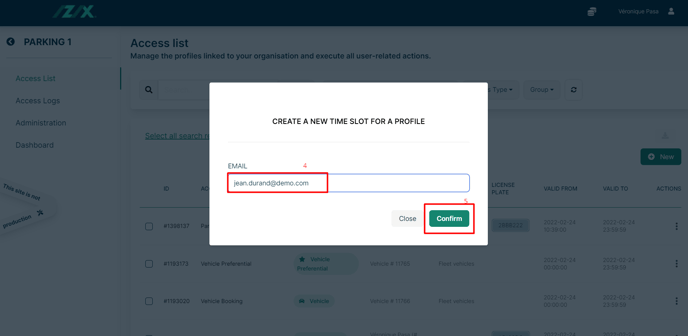 6. In the "Use one of its valid accesses" section, click on the "Create a booking" button to the right of the booking access.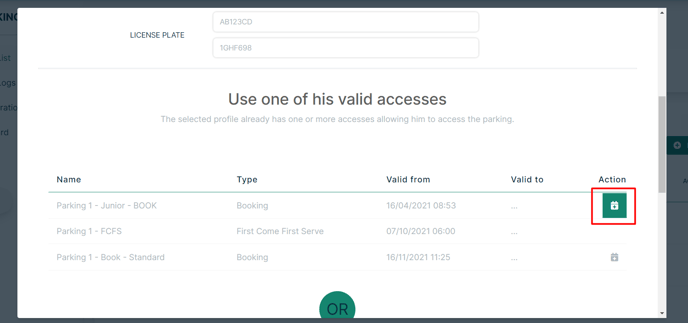 7. Enter the requested information: Access, Start date, End date

8. Save the reservation by clicking on "Confirm".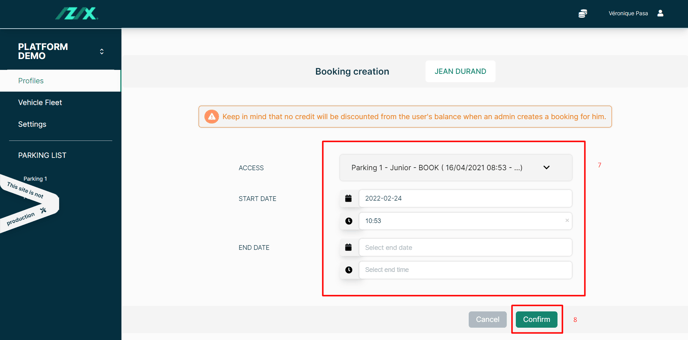 It is also possible to create a booking directly from the user's profile:

1. Click on "Profiles"

2. Click on "Show" next to the profile for which you wish to create a booking
3. At the bottom of your screen, click on the "Bookings" tab and then click on "New"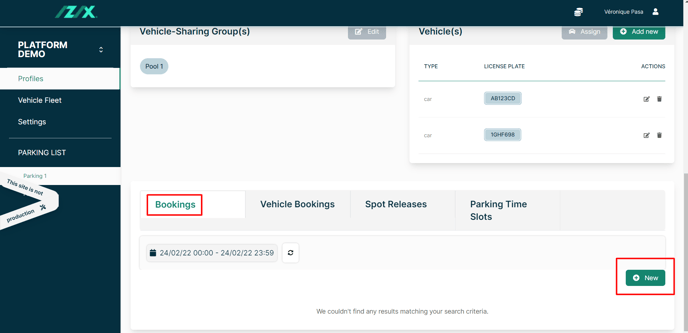 4. Enter the requested information : Access, Start date, End date
5. Save the booking by clicking on "Confirm"