If your organization works with paid credits, you will need to credit your wallet to use the parking lot
This feature's availability depends on your subscription plan and role.
Definition: A paid credit is a unit of measurement that you might have to buy to be able to use a parking lot. A credit corresponds to one booking unit. The available amount of credits is displayed in users' wallet, and as you use the parking lot, the amount of credits will be deducted based on the usage.
Why buying Izix credits?
These requests are exclusively reserved to users with booking access policies that are calling for an "as you use payment": if you book the parking lot, you will have to pay for the usage through the paid credits. If you are in this case, you have a wallet of credits allowing you to use the parking lot. You need to (re)fund this wallet in order to be able make bookings and use the parking lot. The use of the parking lot leads to a decrease in the number of credits that is proportional to the planned time spent in the parking lot and the cost associated to it.
Whether it is the first time you use the parking lot, or after multiple bookings, it is possible that your credit balance is empty and that you still have to use your access to the parking lot. In this case, you have the possibility to buy paid credits to top it up. You will have to proceed with an online payment to make it happen.
How do I buy paid credits?
1. Click on "My accesses" in the menu on the left side of your screen
2. Click on "Purchase credit" to the right of your access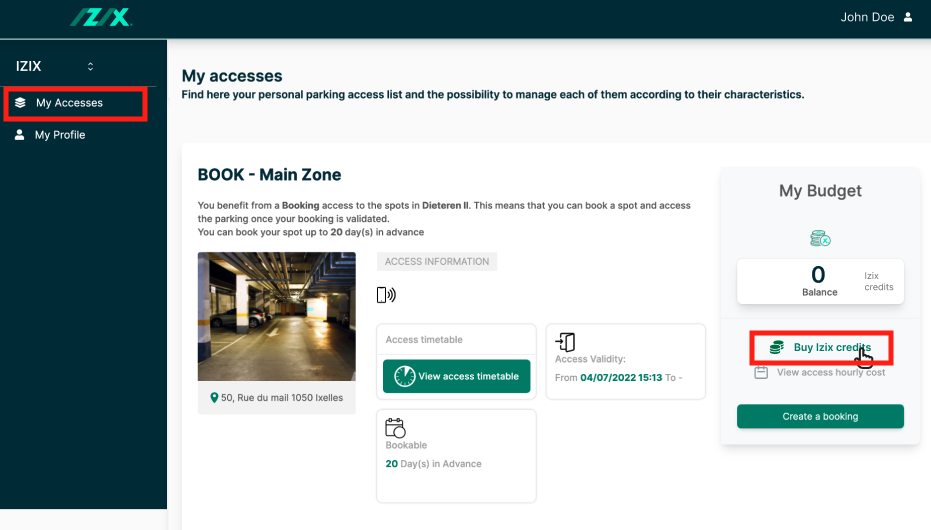 3. Select or type in the amount of credits you want to buy
4. Click on "Proceed to payment"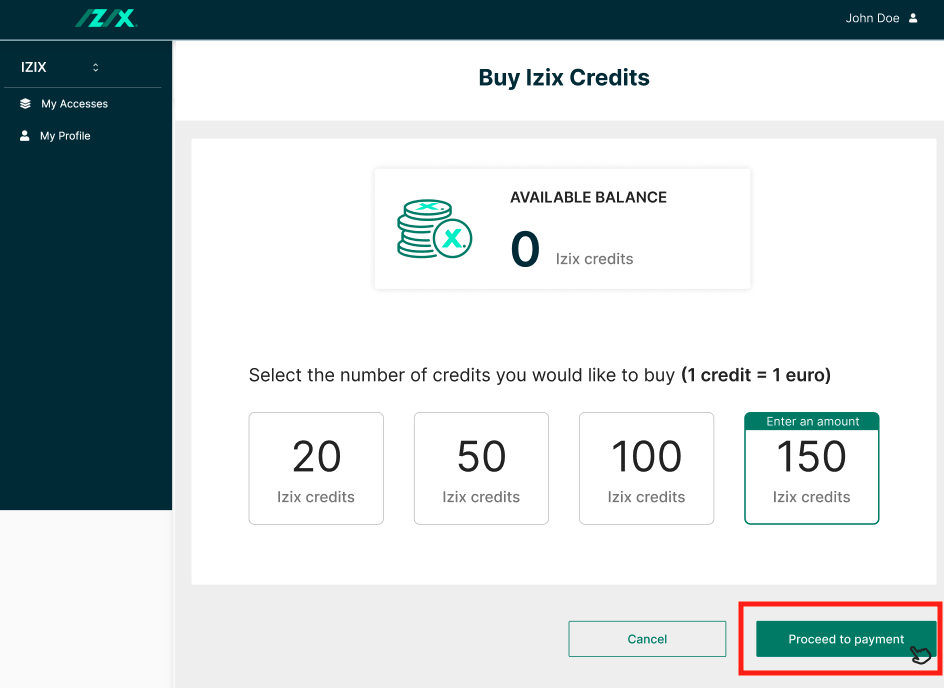 5. You will then be redirect to a payment portal to complete the payment:
- Complete your email address
- Select the payment method and add your details
- Complete the payment
In case of issue at this step, please turn to the support provided by the payment provider.

6. Once completed, you will be redirected to Izix and your wallet will be tapped up.