Find here the step by step description on how you can activate additional features through the Marketplace.
This feature's availability depends on your subscription plan and role.
Definition: A Marketplace feature is a non-core feature that can be installed in the marketplace.
Why should I activate a feature of the marketplace?
The Izix marketplace offers a set of options and extra features that might be relevant at some point in your experience with Izix. Therefore, you can look for and activate new features, while it also offers you the possibility to deactivate features you don't ant to use any longer.
The activation/deactivation of new features can have an impact on your billing.
How can I activate an Add-On?

1. Click at the right top on "Parking management interface"



2. Click then on the tab "Add-Ons"

3. Click on the Add-on you want to activate

4. Click on the button "Activate"


5. You get a warning message saying that it will affect your billing
5.1 Click on "Yes, if you want to go through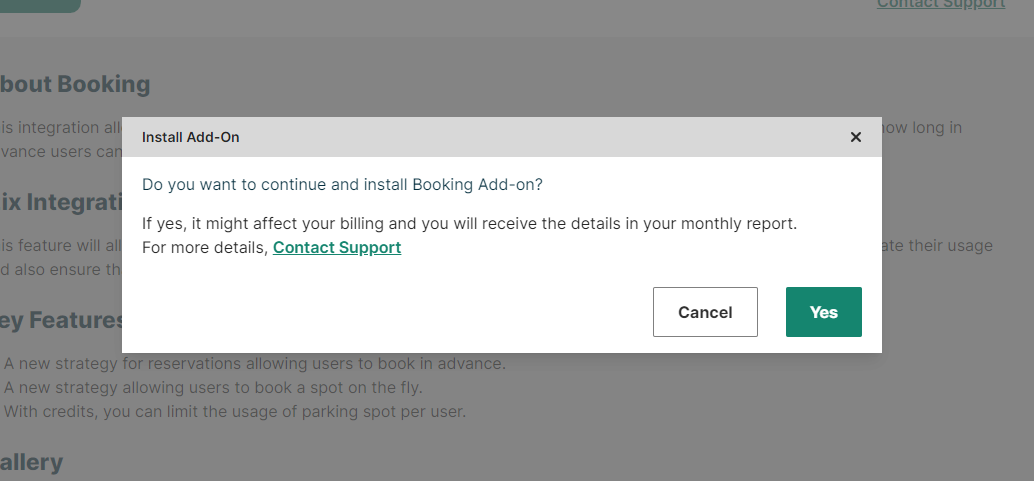 6. The Add-on you have selected has been activated. A confirmation email will by default be send by "no-reply@izix.eu" to you and our CSM team.