Profiles are by default created with a standard role. Assign roles to profiles to allow specific permissions on Izix.
This feature's availability depends on your subscription plan and role.
Definition: A role is a label that is attached to a profile and that carries a set of permissions, enabling these users to access a range of data and/ or functionalities.
Why assigning and managing roles ?
Each Izix user has one or several roles. You may want to provide a selection of users with a specific role, so that they can access data and/or features that they need to fulfill a scope of action within Izix (e.g. create a new profile, create a visit, etc.).
There are 5 différent roles within Izix
Simple user: user having access to their own account on Izix, allowing them to manage their bookings, their spot releases and their personal information according to the accesses which have been attributed by the administrator.
Parking administrator & Organisation administrator: user in charge of managing users and parkings on the platform.
Organization secretary: user with access to the parking access list and the ability to create visits.
Parking lot owner: user having access to the "Building Manager" view of the platform allowing them to manage the leases of their tenants, to define the access schedule of their parking, have an operational view on parking activity, etc.
Visitor: user for whom a visit has been created. Note that a user with the "visitor" role cannot access his profile on the platform since he is, by definition, external to the company. This role's box is ticked by definition when the profile is created during the creation of a visit.
Receptionist: user user having access to the "Building Manager" view that will only see the control room, in which the user will be able to open up the gate and/or create visits.
How to manage role assignments?
1. Click on "Profiles" in the menu on the left of your screen
2. Click on the "Show" button next to the profile you want to edit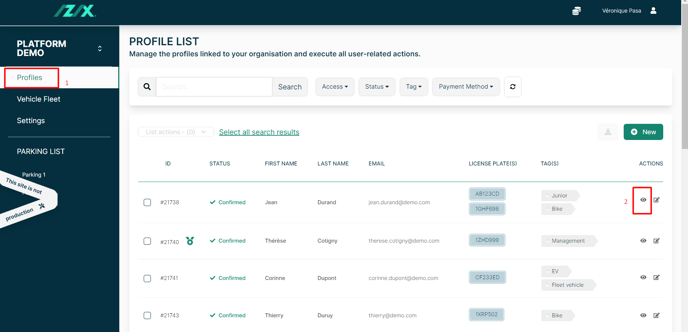 3. Click on the current profile roles in the profile information section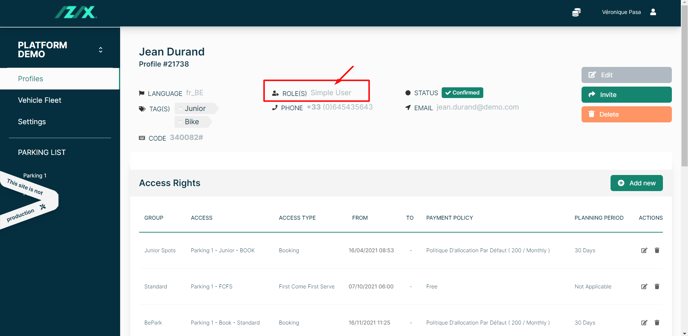 4. Activate or deactivate the roles
5. Click on "Confirm" to save the changes made